Apple Cinnamon Muffins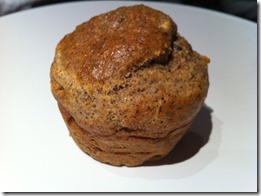 It would be wrong of me to go on about these delicious low carb muffins (gluten-free and grain-free) without giving you the recipe for them!  So, it's below…  The muffins are 2g net carbs each and are really moist and full of flavors because of the spices and apple chunks in them.  I keep them in the fridge and microwave one for 10 seconds on high to warm it up.  They're really convenient to take with you as breakfast or as a quick snack.  You can try making them with other flavors, but I've generally found that apple and cinnamon go really well with artificial sweeteners (i.e. you can't tell that it's not real sugar!), whereas chocolate is really bad at hiding artificial sweeteners. 
These muffins are flaxseed meal and almond meal based.  You can either buy bags of flaxseed meal and almond meal (Wholefoods and a lot of larger grocery stores and health stores generally carry Bob's Red Mill brand pictured below or you can buy it online at Amazon.com) or you can make your own by placing flaxseeds/almonds into a food processor or blender (the almonds can wear down the blade in your blender/food processor quickly).  I generally make my own as it's much cheaper to buy flaxseed and almonds unprocessed, but if you're just starting to try low carb baking, then you might want to start with a small bag of flaxseed meal and of almond meal and see how you like the muffins before buying them in bulk.  The other essential ingredient in low carb baking is coconut flour, and my next muffins post will on that!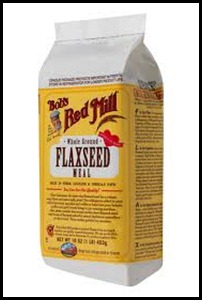 Ingredients (makes 12 muffins)
1 cup of flax meal
1 cup of almond meal
1 tablespoon of black sesame seed (optional)
1 tablespoon of baking powder
1/4 teaspoon of salt
1 and 1/4 teaspoons of nutmeg
1 teaspoon of sugarfree vanilla extract
1 teaspoon of cinnamon
1 teaspoon of orange zest (optional)
1 cup equivalent of artificial sweetener
1/2 cup of butter, melted
4 eggs, beaten
1/3 cup of almond milk (can substitute water)
1 small apple, diced
Equipment: muffin/cupcake pan
Directions
Preheat oven to 350F (175C).
Grease muffin/cupcake pan with coconut oil or butter (ignore this step if you use muffin cups).
Mix ingredients together and whisk well.
Fill each muffin/cupcake cup to around 3/4 of the way.
Bake for 20 minutes and cool before removing.
I've noticed that the muffins do shrink a bit once they cool, and they don't look as fluffy as regular muffins, but they are deliciously moist even on reheating and much much healthier.  In fact, I think these are better than many regular full carb muffins!  Let me know what you think of the recipe and what variations you've tried.