A Sweet Lunch With Sweeteners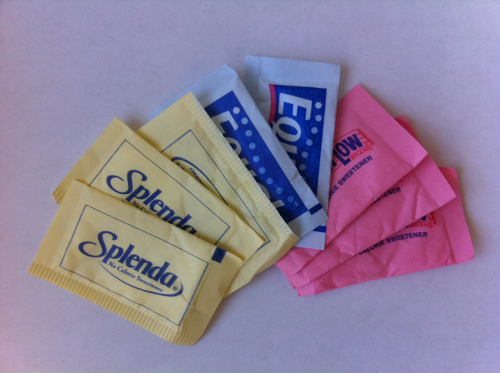 It's amazing what you can learn over lunch! As I sat at Gordon Ramsey's Maze restaurant in New York for lunch last week, our table's conversation turned to artificial sweeteners and their effect on low-carb diets. (This was while I chomped on my carb free rib eye steak!) I had been under the impression that artificial sweeteners were bad in the same way that sugars were bad. I had recently researched into malitol (read my low carb chocolate post for more on malitol), which is a sugar alcohol frequently used in low-carb or sugar-free chocolates, and had found malitol to be poor sugar substitute for those on a low-carb diet. I had unfortunately jumped to the conclusion that basically anything sweet-tasting would be just as bad!
As I propounded my "all sweet tasting substitutes are awful for a low-carb diet" theory, one person at lunch corrected me by explaining that Splenda is actually not digested by our body and therefore would probably not cause the same insulin responses as normal sugar. This sounded wonderful, and I hopped onto the internet as soon as I could after lunch to discover the truths behind artificial sweeteners!
I remained very skeptical during my perusing of internet sites until I read Mark Sisson's post on artificial sweeteners. Having been a physicist in an earlier life, scientific studies sway me way more than even the opinions of well-established nutritionist. The general scientific consensus definitely seems to be that Splenda does not produce spikes in your blood sugar (see my post on blood sugar levels versus insulin levels to understand this concept a bit better), but there are still some problems, which luckily can be overcome:
If you consume Splenda on an empty stomach, your body may still produce insulin even though Splenda is not absorbed into your bloodstream. How does that happen? As soon as you put anything that tastes like sugar into your mouth, the taste buds on your tongue tells your body to start producing insulin immediately in anticipation of the rise in your blood sugar levels. Evolutionarily-speaking, this mechanism is great, because it allows your body to quickly respond to increases in your blood sugar level to prevent too much of a spike, which can be very dangerous (hence why diabetics who produce no insulin to regulate their blood sugar levels would die if they didn't take insulin before eating dessert!).
Most Splenda you find sold in supermarkets or at available at your coffee shop is mixed with a bulking agent (commonly dextrose), which does produce an insulin response in your body. Therefore, it's best to use pure Splenda, which you can purchase online in a liquid form.
So bottom line? You can use pure Splenda (not the white powdery stuff you get usually) on a low carb diet if you consume the food that contains Splenda with a low-carb meal. Well, that's pretty positive right? It certainly sounds like some more experimentation in my kitchen!