Crackers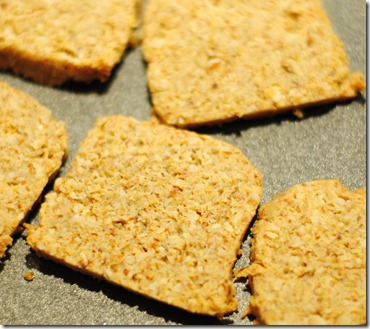 I saw a great recipe on Mark's Daily Apple yesterday that I just had to try – crackers!  You can dip them, spread cheese on them, or eat them by themselves.  Of course, as Mark points out in his post, this is not something you should be eating for every meal just because it tastes so good, but it does make a great snack once in a while.
I've modified the recipe a little so that it's not so crumbly, which makes it a bit easier to cut and cook.  I substituted part of the almond meal for flax meal.  This also adds some extra fiber to the cracker without really changing the taste or the texture.  I've described the basic recipe below along with one option for seasoning, but you can change the seasoning to any spices that tickle your fancy.
Ingredients:
1 1/2 cups  of almond flour (or almonds food-processed into small chunks)
1/2 cup of flax meal
1 egg
2 tablespoons of olive oil (I love the Columela Extra Virgin Olive Oil from Spain because it just has amazing flavor with everything!)
seasoning:  (3/4 teaspoon salt, 1/4 teaspoon basil. 1/2 teaspoon thyme, 1/4 teaspoon oregano, 1/2 teaspoon onion flakes, 1/4 teaspoon garlic powder)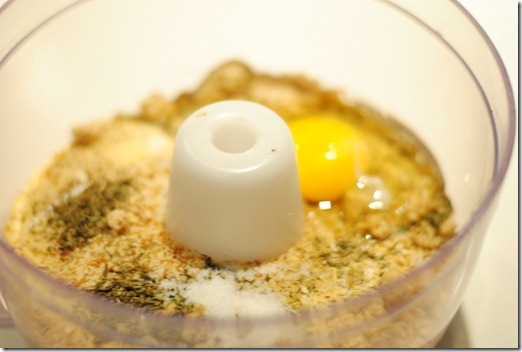 Directions:
Preheat oven to 350F (175C).
Place all the ingredients into the food processor and food process well to make a dough.
Shape dough  into a log (as shown in the photo below) or roll into a flat sheet using tin foil or parchment paper.
Place in fridge for 10 minutes to harden the dough.
If you made it into a log, then cut into thin slices (1/3 of an inch).  If you rolled it into  and then cut into cracker shapes using a pizza cutter or knife).
Place crackers onto baking tray and bake for 10-12 minutes. 
Let cool and store in the fridge over night (this hardens them even more).
Nutritional information (per cracker):  76 calories, 6.7g fat, 2.6g carb (1.7g fiber), 2.7g protein.