Tuna Fish Salad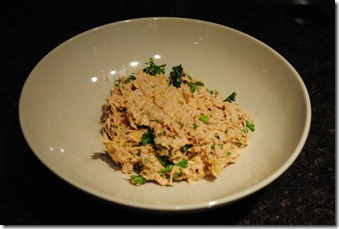 I used to hate tuna fish, and even now I still don't eat much tuna fish, despite the fact that I generally love seafood.  I find tuna fish dry and odd tasting, so the only way I'll eat tuna fish is in the tuna salad pictured to the left.  It's based on a recipe that I found on allrecipes.com (Barbie's Tuna Salad), but I've modified it slightly to lower the calories and make it taste even better.  I use light mayo (Smart Balance, which is low fat and low calorie), less sweet pickle relish and no parmesan cheese (I couldn't taste it at all!) to cut down on the calories.  I also put in less dill and more curry powder than the original recipe calls for (my version is below, of course).  All in all, it's a delicious tuna salad that's full of protein, is low in carbs, and is relatively low in calories.  I make it by the bucket load, so that I have enough to eat for at least a week – Costco sells tuna in 5lb tins, and each tin makes a huge mixing bowl-full that takes me around a week to finish eating.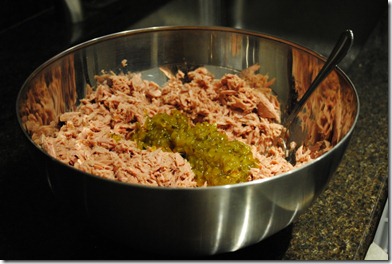 Here's my recipe:
Ingredients:
One 5lb can (or around ten 7-ounce cans or fourteen 5-ounce cans) of tuna in water (I use the chunk light tuna as I find the white tuna to be too dry) – drain the tuna and flake it thoroughly with a fork
1 and 1/4 cups of light mayo (I use Smart Balance Plus Omega)
10 tablespoons of sweet pickle relish (this does have some sugar in it, but makes the tuna salad taste so much better!!)  I've tried substituting this for zero-sugar pickle relish or just omitting it altogether, but the recipe just doesn't work without it.
3 tablespoons dried onion flakes (this gives the tuna fish a bit of a crunchy texture)
2 and 1/2 tablespoons of curry powder (this is absolutely key in this recipe, but don't worry – it doesn't make it taste like curry…it just gives it that hint of curry flavor, which adds so much more dimension and deliciousness to this tuna salad)
1 cup of freshly chopped parsley (you can chop it by hand or in the food processor for a more thorough chop) – the original recipe calls for dried parsley, which you can't really taste, and so I prefer to use fresh parsley
(Optional)  3 tablespoons of dried dill weed (I don't really like the taste of dill, and luckily you can't really taste it the tuna salad, but if you prefer more of a dill taste, you can decrease the amount of parsley and increase the amount of dill or use fresh dill and dried parsley)
(Optional)  2 tablespoons of granulated garlic (or garlic powder) – it adds just a bit of subtle flavor
Directions:
This is the simple part – just put everything in a large bowl and mix well (make sure all the tuna is well flaked so that the flavors can mix in with it).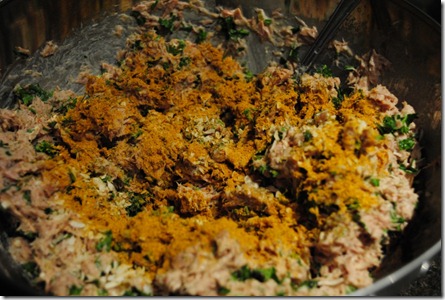 This takes around 20 minutes to prepare.  I would say it makes around ten 8-oz servings, and each serving contains around 250 calories.
You can obviously scale the recipe down if you don't want to make so much tuna in one go, but just be careful to do the calculations correctly.