Which Blender is Best?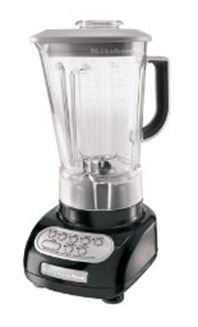 Blenders can range from seriously cheap to seriously expensive.  Unfortunately, this is one of the times where price makes a fairly big difference. 
First, let's separate out the mechanical blenders from the hand-held shakers (which are often called blender bottles). 
Shakers: Blender bottles (or shakers, as I call them) are really just a bottle with a metal ball in it that will blend protein powder (or really any powder) with a liquid.  Obviously, blender bottles will not crush any ice! 
Nonetheless, if you're looking for something that you can take with you to the gym, the office, or on vacation, then blender bottles are perfect!  But, remember, you really only add the liquid and your protein powder (no ice and no fruits!).  If you're looking to buy one, then Amazon sells them for around $7 here – I own the blue one.
What makes a good blender?  When it comes to mechanical blenders, there are a few important aspects to consider:
1. Will the blender leak and/or break?  There is no way to know this in advance 100% of the time, but Amazon reviews come in very handy in this respect.  I've personally been through hundreds of reviews, and this is one of the main areas where price makes a difference.  Cheaper blenders tend to have one of 2 problems.  Either the engine burns out (or starts making weird noises or give off a smoky smell) or the blender jug starts leaking at the bottom.  The "Affordable Blender" I've listed below has given me relatively few problems so far, but there are at least a few people who've had problems with it.
2.  Will the blender actually blend everything?  This sounds like an odd question, but some blenders are designed poorly, so that some of the ingredients get stuck inside the jar instead of getting blended together.  None of the blenders I recommend below have this problem, but if you are looking at other cheap blenders, then be careful.
3.  Will the blender crush ice?  When it comes to makes protein shakes and related smoothies, this is an extremely important question and probably the primary differentiating factor!  Cheap blenders will generally only crush the ice in a perfunctory manner, so that you can taste the pieces of ice in your drink rather than have it smoothly blended. 
Now that you know what to watch out for, which blenders are best?
Best Blender:  If you want the best (i.e. perfectly smooth, no crunch bits of ice), then I would recommend either the Blentec Total Blender (close to $400) or the Vitamix 1363 CIA or 5200 (close to $500).  These are both great blenders that will blend super smooth protein shakes with no bits of ice floating around!  The Blentec is cheaper, less bulky, and has a cool electronic display (although some people may dislike the preset blending cycles).  Both blenders are somewhat loud (to be expected from powerful blenders), and it seems like Blentec's customer service isn't great if your blender does happen to break down.  Blentec also has a shorter guarantee (3 yrs for the motor-base, and 1 yr for the jar versus Vitamix's 5 or 7 yr guarantee).  
Affordable Blender:  For most people, spending close to $500 on a blender just seems crazy, especially since one of those blender bottles (see above) costs just $7!  That's why I really like this Kitchenaid KSB560OB blender, which is available on Amazon here for just $79!  There's a ice crushing button that will pulse the blender to crush the ice, and there's a variety of different speeds to choose from.  The ice gets pretty well blended, and I rarely notice any bits of ice.  However, it is also loud, and it does often leak a little (although so far I have only noticed a very small splatter of leaks from the jug when on the fastest setting).  However, most affordable blenders are either going to have this leaky problem or else just break down very easily!  Judging by the reviews and my own personal experience, I think this Kitchenaid is currently the best you're going to be able to get for that price! 
Cheap Blender:  If you're looking for a cheaper blender, then the Oster BCBG08-C blender ($39) is very popular, but the motor definitely has less power (450Watts versus around 720 Watts for the Kitchenaid described above).  This means that it won't crush ice and blend as well.  This blender does also seem more likely to break (at least judging by the frequency of reviewers who say they've had it break).  However, if you are willing to risk it and don't care too much about how smooth your protein shake is, then this isn't bad for the price!