Black and White Protein Shake Recipe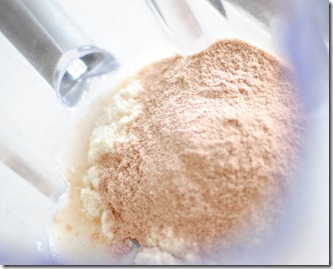 I bought some vanilla protein powder to make some low carb fudge and by chance discovered that it also makes a great black and white protein shake!  The recipe is super easy and tastes like a vanilla chocolate milk shake!
Ingredients:
1 scoop (30g) vanilla protein powder
1 scoop (30g) chocolate protein powder
8 oz. (1 cup, 250ml) coconut milk (or mlik or almond milk – read this article to see what the differences are)
1/2 cup ice
Instructions:
Add all the ingredients together and blend.  Read this article if you want your shake to be thicker.