Butternut Squash Soup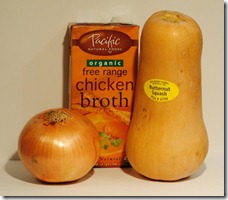 Winter has most definitely set in again (unless you're in the southern hemisphere, in which case, I truly envy you right now!).  This weekend has been literally freezing in New York, so I decided to keep warm with some butternut squash soup, which is both delicious and easy to make! 
Those 3 ingredients you see pictured on the left are pretty much all you need!  (In addition, a blender, a food processor, or an immersion blender – which is the best one to use – is also crucial to create that smooth soup texture.)
Ingredients (4 servings)
1 chopped onion (I used half of the one in the photo as it was a really large onion)
32oz (4 cups) chicken broth
1 butternut squash
1 tablespoon of coconut oil (or dab of butter)
salt to taste
nutmeg and pepper (optional)
Directions
Chop the onion (no need to chop it particularly finely).
Add 1 tablespoon of coconut oil (or butter) to a large pot (large enough for more than 8 cups of liquid) and add the chopped onions.  Sauté the onions on low heat until they turn transparent (5-10minutes).
While the onions are cooking, chop up the butternut squash.  I cut it into 1-inch thick slices and then take off the skin by chopping it off (see photo below).  Then I cut the squash into roughly 1-inch cubes.
When the onions turn transparent (the onions have turned transparent in the photo below), pour in the 32 ounces of chicken broth.  Then add the chopped squash and simmer on a medium heat for 1 hour.
Now comes the hard part.  If you have an immersion blender, then stick it into the pot and puree the cooked veggies to create the soup.  (Try to keep the end of the stick immersed in the soup to prevent too much splashing.)  If you don't have an immersion blender, then you'll need to take the softened veggies (squash and onions) out of the pot, without the liquid, and place it into a blender or food processor to puree.
Once pureed, season with salt.  Try a bit of the soup to see how much salt you want.  If the butternut squash you used was very ripe, then your soup may be sweeter and therefore you might want less salt.  You can also add pepper and nutmeg.
Cook for another half hour and serve.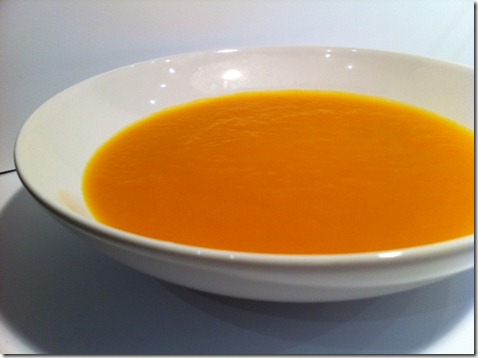 Added Bonus: When you were cutting up the butternut squash, you probably noticed all those seeds inside of the squash.  If you scoop these out (I use my hands) and wash them clean, you can then cook them for 30min in the oven at 350F on a piece of aluminum foil and eat them whole as a crispy snack.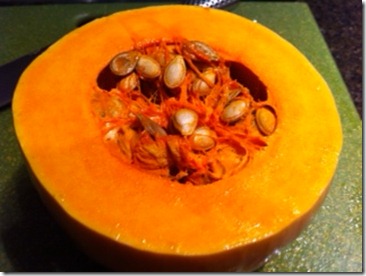 If you don't like butternut squash, you can substitute sweet potatoes (or Japanese yams) or pumpkin, or you can mix it up.  I've made the soup before with a butternut squash, 2 Japanese yams and a can of pumpkin puree (in which case I needed 64oz of chicken broth).
Note:  butternut squash is one of the more starchy squashes (1 cup = 18g net carbs), and it isn't permitted on the Atkins diet until the later stages.  It is however permitted on primal and paleo diets, and many low-carbers are ok with eating butternut squash, yams, and pumpkins as long as you don't go overboard!