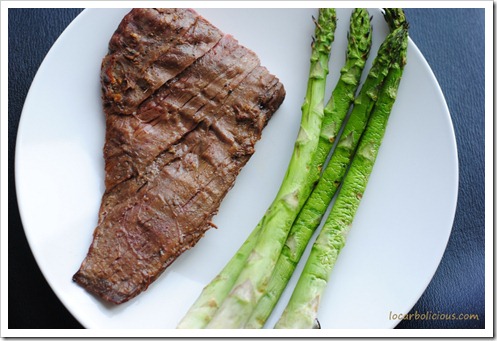 Marinated Grilled Flank Steak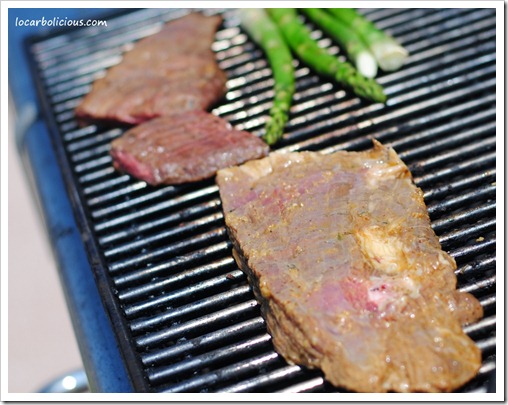 This is such a simple and delicious recipe and perfect for showing off your grilling skills without possessing any of those skills! It's all in the marinade, and luckily, making the marinade just means dumping all the ingredients into a large bowl and stirring it.  It's also great because flank steak is such a cheap steak, so you can grill this all the time!
I made the marinade the night before and placed the flank steaks in the marinade overnight.  There was so much flavor!  I even reheated some left over steak in the microwave the next day, and it was still super tender and flavorful.  So, here's how to make it…
Marinade Recipe for Flank Steak
For 3 lbs of flank steak (usually two large pieces of flank steak that feeds at least 4 people):
1 cup coconut oil (or substitute with other oils)
2/3 cup soy sauce (or liquid aminos for a great gluten-free alternative)
1/2 cup red wine vinegar
juice from 1 lemon
2 tablespoons of mustard
6 cloves of garlic, crushed
1 tablespoon of grated fresh ginger (I used a cheese grater)
1 tablespoon of paprika
1 tablespoon of dried chopped onion
1 tablespoon of salt
1 tablespoon of garlic powder
2 teaspoons of thyme
1 teaspoon of chili powder (it's not spicy so feel free to add more chili powder if you like it really spicy)
How to Marinade Flank Steak
I sliced the 2 large flank steaks into halves so that it would be more manageable for marinating and cooking.  I placed each of the 4 pieces of steak into a ziplock (sandwich) bag and poured some marinade into the bag.  I carefully sealed the 4 ziplock bags and placed them into another plastic bag before putting them into the fridge overnight (I really didn't want anything to leak into my fridge).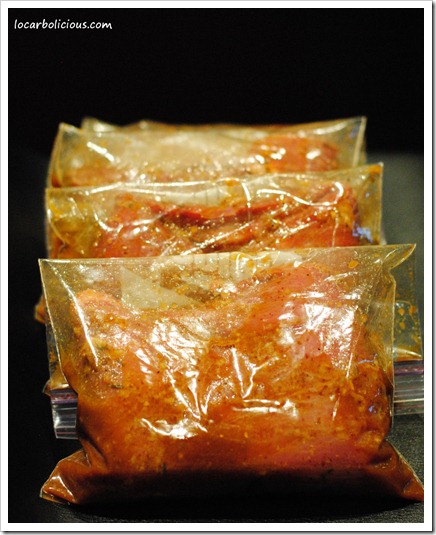 How to Grill Flank Steak
This part will vary a bit depending on the type of grill you're using, how thick your piece of steak is, and how rare or cooked you like your steak.  My apartment building has a nice gas grill on the roof, so I try to keep the grill temperature around 300-350F with the lid down.  I like my steaks medium so I generally use tongs to see how soft the meat is getting.  When the meat starts to feel less like the softness of raw meat and more firm, then it's pretty much ready for me.  This usually takes around 15 minutes.  If you like your steaks rare, then cook it for less time, and if you like it well done, then keep it on the grill with the temperature under 350F for longer.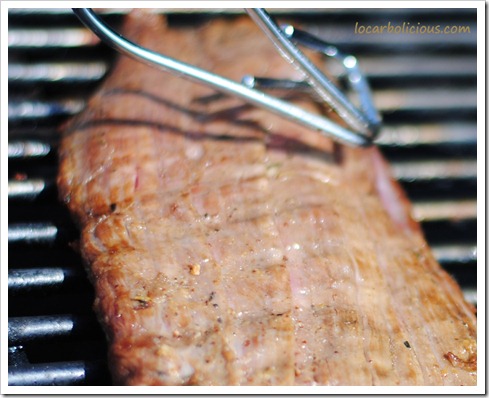 Cutting and Serving Flank Steak
Remember to cut against the grain (i.e. not parallel to the strings of meat fiber) if you're slicing it up.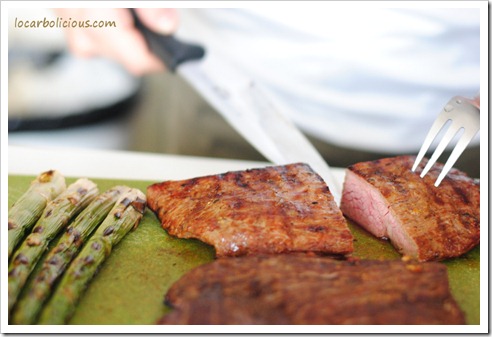 Or you can serve the steak whole with some grilled vegetables.  The next photo shows approximately a 0.4 lb flank steak with some grilled asparagus.  So, the marinade makes 8 pieces of steak that size.