Chocolate Almond Dessert
I hate prix fixe menus now because it forces me to get a dessert course that I can't eat! I'm usually forced to eat a few berries while watching everyone else at the table gorge themselves on chocolate fondant or strawberry cheesecake, or some other tempting dessert. I miss desserts. Sigh!
I've searched through many of the low carb dessert recipes out there (and I try lots of the pre-made low carb desserts too), but it just seems wrong to replace sugar with Splenda or some other fake substance. (Fake sugars have similar insulin effects as eating real sugar, so it really shouldn't be part of a low carb diet – I know, there's disagreement there!) Anyway, my solution is the chocolate almond dessert (yummy and low carb!)
What you will need:
2 tablespoons of almond butter (other nut butters are good too like peanut butter, although some diets won't allow peanuts). I get fresh almond butter from wholefoods,ama
2 pieces (56g) of Baker's unsweetened baking chocolate (or some similar unsweetened dark chocolate above 75%). There is 8g of net carbs in the 2 pieces of Baker's.
1 teaspoon of coconut oil (optional).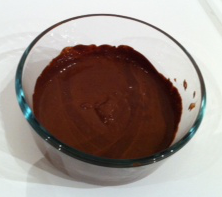 Cooking instructions:
Place the almond butter and the chocolate together in a microwavable bowl and place on the high setting for 1 minute or until the chocolate melts.
Stir the mixture until the almond butter and melted chocolate are evenly distributed.
Using a piece of kitchen towel, spread the coconut oil on all the sides of the container that you want your chocolate to be molded into – this can be a bowl, the bottom of a glass, or just a piece of tin foil. I went for a tin that I had lying around, but the bottom of a glass for a round piece of chocolate would work well too!
Spoon the chocolate almond butter mixture into your oiled contained and place into the refrigerator for 2 hours.

Take the chocolate bar out of the container – you might need to use a knife to scrape around the edges for it to pop out. And there you have it – a praline-like bar of soft delicious dessert. If you want more nuts, you can also add chopped up hazelnuts (or other nuts) on top of the chocolate bar after it has been in the fridge for about 10 minutes. You can also cut the bar into strips and put onto low carb ice-cream from an even for better dessert!