Iced Tea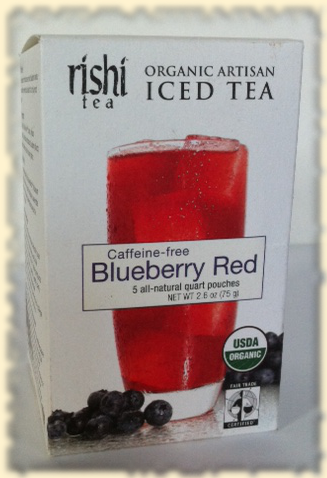 I don't really like drinking water – it seems too flavorless to me. Before this diet, I would drink plenty of soda, vitamin waters, powerades, teas, and coffees. Well, all of the diet drinks are out because they have artificial sweeteners, (which cause similar insulin effects as real sugar) and I'm trying to cut down on caffeine as my stomach doctor tells me that caffeine can cause heartburn. So, I'm not left with very much sadly. Caffeine free iced tea has become my consolation. It's really easy to make, and you can use just about any kind of tea, from black teas to green teas to herbal teas. There's a lot of interesting tea flavors out there so there's plenty of variety to keep me from getting bored with one taste. I just bought the Rishi Blueberry Red, which is a blend of rooibos, hibiscus, licorice root, and blueberries.
How to make iced tea:
Boil some water in an electric kettle or on the stove (make sure the water actually boils). I use the Aroma AWK-115S electric kettle because it's so easy. (I tend to forget about things on the stove, which then usually ends in a mini emergency with the fire alarm blaring away.)

Pour the hot water into the tea pot with the tea bag (I use one of the Rishi tea bags with about 1.5 liters (or 50 oz.) of water. Then let it cool for a few hours before taking the tea bag out and pouring the tea into a jug to put into the fridge. Of course, you can take the tea bag out earlier if you want a weaker tea. You also don't have to put it into a jug before putting into the fridge – I just prefer it as my jug is prettier!
If you're in a hurry to drink you iced tea, just put some ice cubes into a glass and pour the tea in.
To make it look even prettier, you can add some freshly crushed blueberries into the tea after it's been refrigerated. Another favorite tea of mine is barley tea (they serve it in many korean restaurants). You can buy the Marubishi barley tea online at amazon.com or you can probably find it at your local oriental supermarket. Of course, you don't have to make cold iced tea. You can also drink all of these teas hot!