New Year's Resolution–Cook More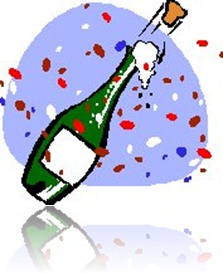 2012 is going to the year when I unleash my cooking potential!  Already this year, I have made 3 new dishes (2 low carb desserts) and bought enough food that my refrigerator is staring to groan.  However, I've made enough resolutions to know that 2 weeks is the average amount of time before the resolution crumbles and then collapses into a distant memory of yet another failure. 
So this year, I'm going to help my lack of perseverance along a bit.  Instead of just saying I'll "cook more," I'm going to be a bit more definite – I am going to cook at least twice a week.  I'm also going to make more simple dishes, so that cooking doesn't eat into my evenings too much.  To kick start this new resolution, I made a really simple dish tonight.  It took me all of 15 minutes and was delicious.  The recipe for the so-simple-even-you-can-make-it eggs and Chinese chives stir-fry is below, but first, let me explain what Chinese chives are and why they are so amazing!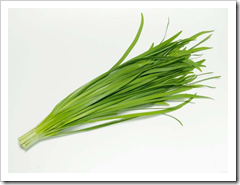 Chinese chives look a bit like tall grass (see the photo on the right), but they have a very distinct fragrant smell and taste.  Although they are similar to normal chives, they have a much stronger taste.  It's hard to describe the taste since it's quite unique, but it's probably something close to that of a leek with the sweetness of green onions and a touch of garlic.  Doesn't that sound delicious already??  Unfortunately, you can only find Chinese chives in Asian supermarkets, but you can substitute leeks or regular chives for the Chinese chives.
Ingredients (makes 2 servings)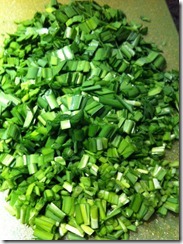 4 eggs, beaten
1 and 1/2 lbs of Chinese chives (or leeks or regular chives), chopped into 1/2 inch segments
2 tablespoons of coconut oil (or other cooking oil)
2 tablespoons of soy sauce
Directions
Pour 2 tablespoons of oil into a frying pan.
Add the eggs and scramble them.
When the eggs are cooked, add the chives and cook for 7 minutes on medium heat stirring every few minutes until the chives look wilted.
Add the 2 tablespoons of soy sauce and stir.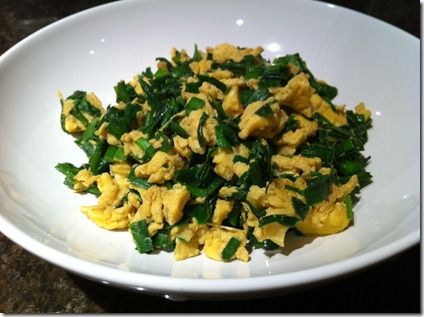 It's a great dish to have for breakfast, lunch, or dinner.  And it's easy and super quick to make!  I wish all recipes were so simple!