Perfect Scrambled Eggs??
Watch Gordon Ramsay make PERFECT scrambled eggs! I was able to recreate it myself (see photos below).
Ok, so you're wondering what I could possibly say about scrambled eggs that you don't already know!  And two days ago, you would have been correct to wonder!  But now that I've seen this video, I absolutely must share with you Gordon Ramsay's PERFECT scrambled eggs. 
If you think you already know how to make perfect scrambled eggs….think again!  Apparently (according to Gordon Ramsay), even many of the most experienced chefs don't know how to make good scrambled eggs!  This is definitely not your typical scrambled eggs.
As you've probably heard before, the key is don't overcook the eggs.  But, this isn't all that he does – with a few simple techniques, such as not whisking the eggs and not melting the butter prior to heating them, he creates scrambled eggs that are much creamier and much tastier. 
I've tried to summarize the technique below, but I recommend you also watch the video (although ignore the part about bread if you're on a low carb diet). 
Who is Gordon Ramsay?  For those of you unfamiliar with Gordon Ramsay, he is a fairly famous chef from Britain (there's some good food in Britain, I promise!).  He's most famous in the US for the TV show, Hell's Kitchen, in which he shouts and swears a lot (a lot!) in reaction to the mistakes made by aspiring chefs at the Hell's Kitchen restaurant!  I personally prefer the British TV show, Ramsay's Kitchen Nightmares, where he visits various struggling restaurants and attempts to turn them around with varying degrees of success.
How to make PERFECT Scrambled Eggs: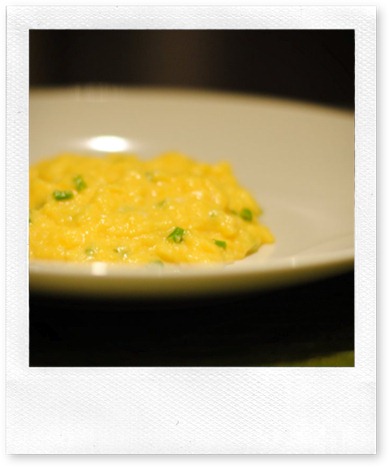 [print_this]
Ingredients:
3 eggs (do not whisk! – this is very important!)
2 tablespoons of butter (unsalted)
1/2 tablespoon crème fraiche (or Crema Mexicana if you can't find crème fraiche).  I think the recipe also works without this ingredient, but it's better with it.
2 teaspoons of finely chopped chives (optional)
1/4 teaspoon salt (or to taste), and a small amount of pepper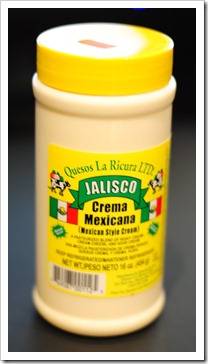 Directions:
Crack the eggs into a pot and and add the chunk of butter to the pot.
Put the pot onto medium heat and start stirring so that the eggs get broken up.
Keep stirring without stopping.  After around 2 minutes, the chunk of butter will have melted.
Move the pot off the heat when you start to see some of the egg sticking a bit to the bottom of the pot.  Keep stirring off the heat for about 10 seconds and then put it back on to the heat for another 20-30 seconds, but always keep stirring.  Do this three or four times until you see that the mixture begins to become slightly more solid (but do not wait until it's actually solid!). 
Once the eggs have just begun to solidify, take the pot off the heat permanently.  Quickly stir in the 1/2 tablespoon of crème fraiche (or Crema Mexicana) and the chives. 
Lastly, season with salt and pepper.
[/print_this]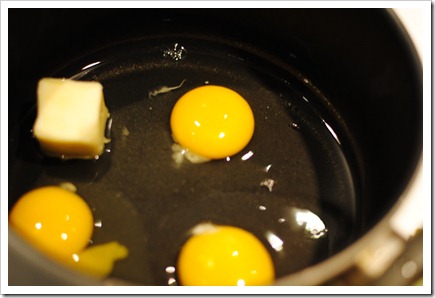 How do the eggs taste?  Delicious with a very creamy texture and taste.  I also like how the chives add an extra dimension to the flavor.  Can't wait to try it with some smoked salmon like Gordon suggested in the video.  Let me know how you like it!