Pulled Pork with Zero Carb BBQ Sauce
I had pulled pork cooked in an green egg a few weeks ago at a friend's house in Georgia. A green egg? It's a high end ceramic charcoal cooker that keeps temperatures regulated throughout the cooking process and it's shaped like a green egg (see photo). It tasted delicious, but unfortunately, the green egg costs over $1,000, requires a deck or balcony (which is impossible in NY), and takes 8 hours of monitoring. Instead of all that, I just use my handy slow-cooker. And what about the BBQ sauce? Aha – this is where it gets exciting…Zero-calorie delicious BBQ sauce – keep reading and all will be revealed.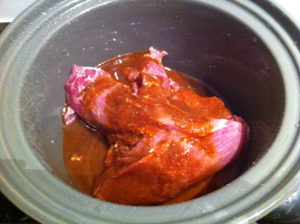 Instructions for Cooking the Pulled Pork:
Get some pork butt or pork shoulder and place it into the slow cooker. (The photo shows 3lb of pork butt.)
Pour some sea salt into the pot (2 tablespoon for 3lb).
Add 1 cup water.
Optional: add some garlic and onion powder and some of the zero-calorie zero-carb BBQ sauce (see below).
Cook on low (300F) for 10-12 hours (it's ready after around 8 hours, but I like it super tender).
Shred using two forks.
Zero-carlorie, Zero-carb BBQ Sauce: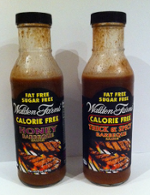 There are 2 incredible parts to this secret sauce:
FIRST, Walden Farms makes these amazing zero-calorie zero-carb dressings and sauces (and even a chocolate dip). You can buy it off Amazon for $3.99 plus shipping or at random little stores like the one on the corner of 9th Ave. and 36th St. without the shipping. There are 4 flavors, and I've tried 2 so far: Honey and Thick N' Spicy. Ok, if you're reading their reviews on Amazon or you've tried it, it's not exactly amazing. The Thick 'N Spicy is pretty good if you can handle a lot of spice. The Honey isn't spicy, but you can taste the fake sugar in it. But, if you add the second part of this secret sauce, it transforms….

SECOND, Crystal Hot Sauce, which you can buy from Amazon for $7.99 and free shipping. It may not sound that amazing, especially since the ingredients are so simple: Aged Red Cayenne Peppers, Distilled Vinegar, Salt. But, it is just that…amazing. It adds so much flavor without being too spicy. I love spicy food, but I can't take huge amounts of spice, so this is perfect.
The trick is to combine the Crystal sauce with the Walden Farm Honey BBQ and then adding a touch of salt. The hot sauce flavor completely covers up the fake sugar taste in the BBQ sauce so that you're simply left with a delicious sauce! Pour onto your pulled pork, or pulled chicken or whatever meat you want. Zero calories. Zero Carbs. I could write something very cheesy right now, but I'll stop here.