Salmon Bake
I never use my oven enough when I'm cooking – I think it's probably the Asian in me! My parents have a large kitchen with 3 ovens, and yet they never use any of them! I'm not even positive they know how to use the oven! The only time I remember using the oven before college was to dry a piece of plastic (which then melted of course, duh!) and making cheese on toast (a fav of mine from my childhood days!). Well, this diet is pushing me to discover new appliances! I discovered what the broiler button on my oven did a year ago (while trying to figure a way of cooking sausages more conveniently), and now I'm discovering just how good salmon can taste when baked in the oven. This is a simple and quick recipe from allrecipes.
Ingredients to make 2 fillets of salmon
2 cloves garlic, minced
6 tablespoons olive oil
1 teaspoon salt
1 teaspoon ground black pepper
1 tablespoon lemon juice
2-3 tablespoon fresh parsley, chopped
2 (6 ounce) salmon fillets without the skin
1 teaspoon dried basil (optional)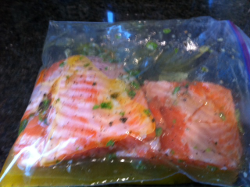 First we're going to prepare a quick marinade for the salmon. Mix together the minced garlic, olive oil, salt, pepper, lemon juice, and parsley (and the basil if you have some in your kitchen). This is going to be your delish marinade.
Pour the marinade into a ziplock bag and place the salmon fillets into the bag as well. Seal the bag tightly and place into the fridge for an hour.
Preheat the oven to 375F (190C).
Take the fillets out of the ziplock bag and place them onto a piece of aluminum foil and turn the edges of the foil up so that none of the marinade spills out. Pour a bit more of the marinade onto the salmon and cover the salmon fillets up with the foil. I would the put another piece of foil around the your salmon-filled aluminum package just in case any of the marinade spills out.
Place the aluminum package into a baking pan (or glass dish made for baking) to prevent spillage, and bake for 35-45 minutes (until the salmon comes off in flakes).