Vanilla Pound Cake: Grain Free and Sugar Free
I absolutely love all of Carolyn's creations on All Day I Dream About Food.  She has some amazingly delicious recipes and some even more amazing photos of her creations!  If you're hungry for desserts, then you should definitely check out her site – it will make your mouth water. 
When I told Carolyn that I was grain-free (gluten-free) and low-carb, she suggested trying her almond crusted butter cake.  Her recipe uses almond extract and is sweetened using erythritol, a sugar alcohol, and stevia.  You can find that recipe here.  I modified her recipe so that it wouldn't contain any sugar alcohols (I also made it vanilla flavored).  Instead, I've sweetened it with liquid sucralose (which contains fewer carbs than Splenda but is essentially the liquid version of Splenda).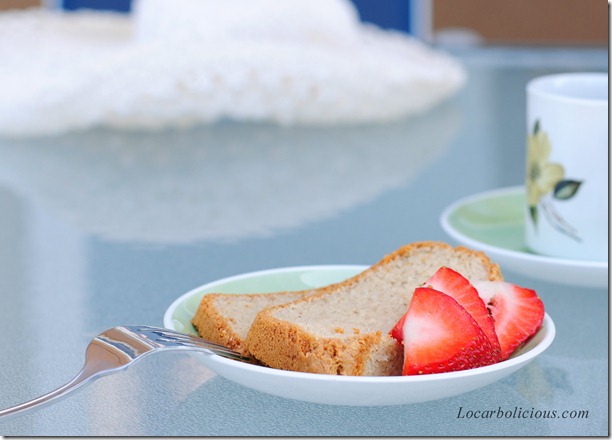 This was a huge hit at a recent dinner party with a bunch of non-low-carbers!  The little bit of protein powder in the recipe makes the texture soft and smooth – just like regular cake!  Enjoy with a good cup of tea in the afternoon.
| | | |
| --- | --- | --- |
| Vanilla Pound Cake Recipe | | |
Author:
Vanilla grain-free, gluten-free, sugar-free, low-carb pound cake!
Ingredients
3 cups almond meal/flour (I've made the recipe using Bob's Red Mill Almond Meal/Flour, which you can buy here (the recipe uses up pretty much a 16oz bag) and using my home-made almond flour, which is made by food processing raw almonds to create a coarse almond flour)
1/3 cup vanilla flavored whey protein powder (I love this vanilla ice-cream flavored one)
1.5 teaspoons baking powder (see this post if you want to eliminate the carbs in baking powder)
1 teaspoon baking soda
pinch of salt
1/2 cup of butter, softened (I use the microwave for this)
3 large eggs
1 tablespoon vanilla extract (sugar-free)
3/4 cup sugar equivalent of liquid sucralose or other sweetener (I buy it from splendex.net)
1/2 cup almond milk
Instructions
Preheat oven to 300F.
Butter a loaf pan (9in by 5in).
Mix all the dry ingredients together.
In a large mixing bowl, beat the butter and add in the eggs, one at a time. Add the sucralose and vanilla. Then add in the dry ingredients mix, followed by the almond milk. Beat well.
Pour the cake batter into the loaf pan and bake for 60 minutes (the cake will rise in the oven and the top should turn golden brown). Let the cake cool for a few minutes before flipping it out. Cut into slices when it's completely cooled.