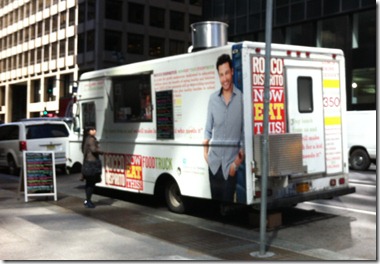 I walked out of the subway this morning and found myself walking toward a food truck bearing the sign "healthy comfort food."  I'm always intrigued by anyone claiming to sell "healthy" foods, but most of the time, their idea of "healthy" falls quite a bit below my standards! 
However, I am happy to say,the Now Eat This food truck is not only tasty but also reasonably healthy.  That said, I do wish they would tell you the carb count along with the rest of the nutritional information.
MENU:  The primary aim of their menu appears to be low calorie food with an emphasis on gluten free and sugar free.  For example, you can get gluten free meatballs with penne pasta (349 calories), faux fried General Tso's chicken (310 calories), or a cheesy turkey black bean enchilada with low carb tortilla (302 calories). 
In addition, they also have one low carb option, which I went for:  chicken & andouille jambalaya with no carb Shirataki rice (they do add black beans, which have carbs).  This dish is pictured below.  The meat was pretty decent quality and the sauce was tasty (with just a bit of spice).  I was a bit worried about the Shirataki rice, but it actually tasted pretty good and soaked up the flavors well.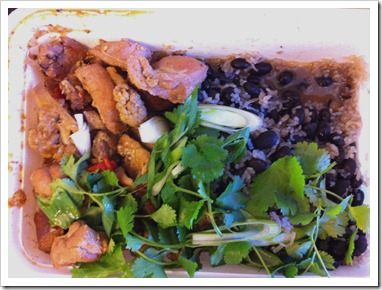 DRINKS:  They sell only zero-calorie drinks, including iced tea, Zevia, and other calorie-free sodas.
THE STORY:  The food truck was started by celebrity chef Rocco DiSpirito (and I assume that's his picture plastered across the truck).  They also sell his cook book at the truck!  Although this sounds like a blatant promotion for Rocco, I do appreciate the fact that 100% of the proceeds from the sales at the food truck go toward educating New York City schoolchildren about how to cook and what is healthy to eat.
WHERE TO FIND IT?  If you're in NYC, then the best way to find it is via facebook or twitter as the truck moves around from day to day.  I found it today at 52nd and Lex.  They are also now on Seamless, although I'm not positive what delivery radius they have.