The Atkins' Induction diet ended two weeks ago, and since then I've been traveling and generally drinking and eating as if these would be my last meals ever! In hindsight, the Atkins' diet wasn't so horrific (although I'm sure that's a result of my selective memory). There was nothing wrong with the diet – it was strict, but doable, and I definitely saw results within those two weeks (I lost 6 lbs and felt so much more awake during the day). The problem only came when I ended the diet.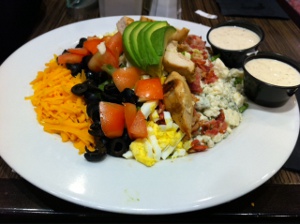 There was the initial joyous anticipation, which started a few days before the diet was scheduled to end, and I didn't stray from the diet during those few last days even though I had to fly to Atlanta (I dutifully packed some home-made jerky and Atkins' mudslide bars for the flight and enjoyed a very large salad (see photo) at the airport before the flight). I know, pat pat on the shoulders! Then, there was the day itself – I wasn't too bad initially (I had a sticky bun at a local brunch place in Woodstock, GA), but then it just fell apart over the following two weeks as more and more carb-full and sugar-packed delights came into my purview. I had everything from milkshakes (including a foie gras one that I did not enjoy) to burgers and doughnuts (the ones at Voodoo Doughnuts in Portland were amazing!). Then I topped it all off with a brioche french toast brunch coupled with butter slathered on moist biscuits (the Southern kind) this morning at Craftbar. Sigh. I knew after the meal that something had to change. I was exhausted and ready to go to sleep at 2pm in the afternoon after having only gotten up two hours previously. This was not how I wanted to spend my previous weekend days.
So, a new challenge. No more eating out for a WHOLE MONTH! It's going to recharge my energy, boost my health, and increase my bank balance! Friends, if you want to see me for dinner, bring your dinner and come over to eat 😀 I'll even share some of my food with you! I'd like to say I can do this challenge for longer, but I already have a trip to Chicago planned in mid-October (traveling always seems to screw up my diet as Atlanta and Portland demonstrated!).
And to keep up with my experimentation of low carb diets, I am planning to start Mark Sisson's Primal diet (a popular version of the Paleo "caveman" diet) next week.